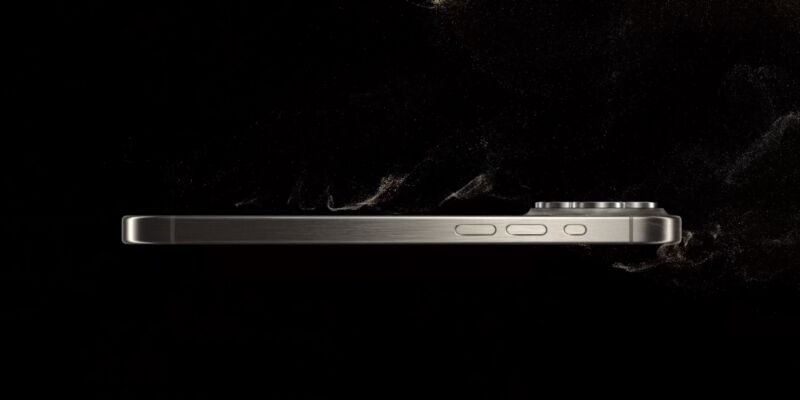 Details about the iPhone 15 Pro and iPhone 15 Pro Max were revealed in a live broadcast from Apple today, and we're looking at a mostly modest update—apart from the long-awaited switch to USB-C.
The iPhone 15 Pro and Pro Max will go up for pre-order on Friday, September 15th. Both will be available on September 22. The 15 Pro starts at $999 for 128GB, the same starting price as the iPhone 14 Pro for last year. The Pro Max technically gets a price hike, but only because Apple has axed the 128GB version—a 256GB iPhone 15 Pro Max starts at $1,199, the same price as the 256GB model from last year.
The most noticeable change is a shift from an aluminum frame to one made out of a brushed "grade 5 titanium," which Apple says makes the phone more durable while also making it lighter. The phone is also a little smaller than past models, thanks to slimmer display bezels. The screen sizes stay the same—6.1 inches for the base model and 6.7 inches for the larger iPhone 15 Pro Max one.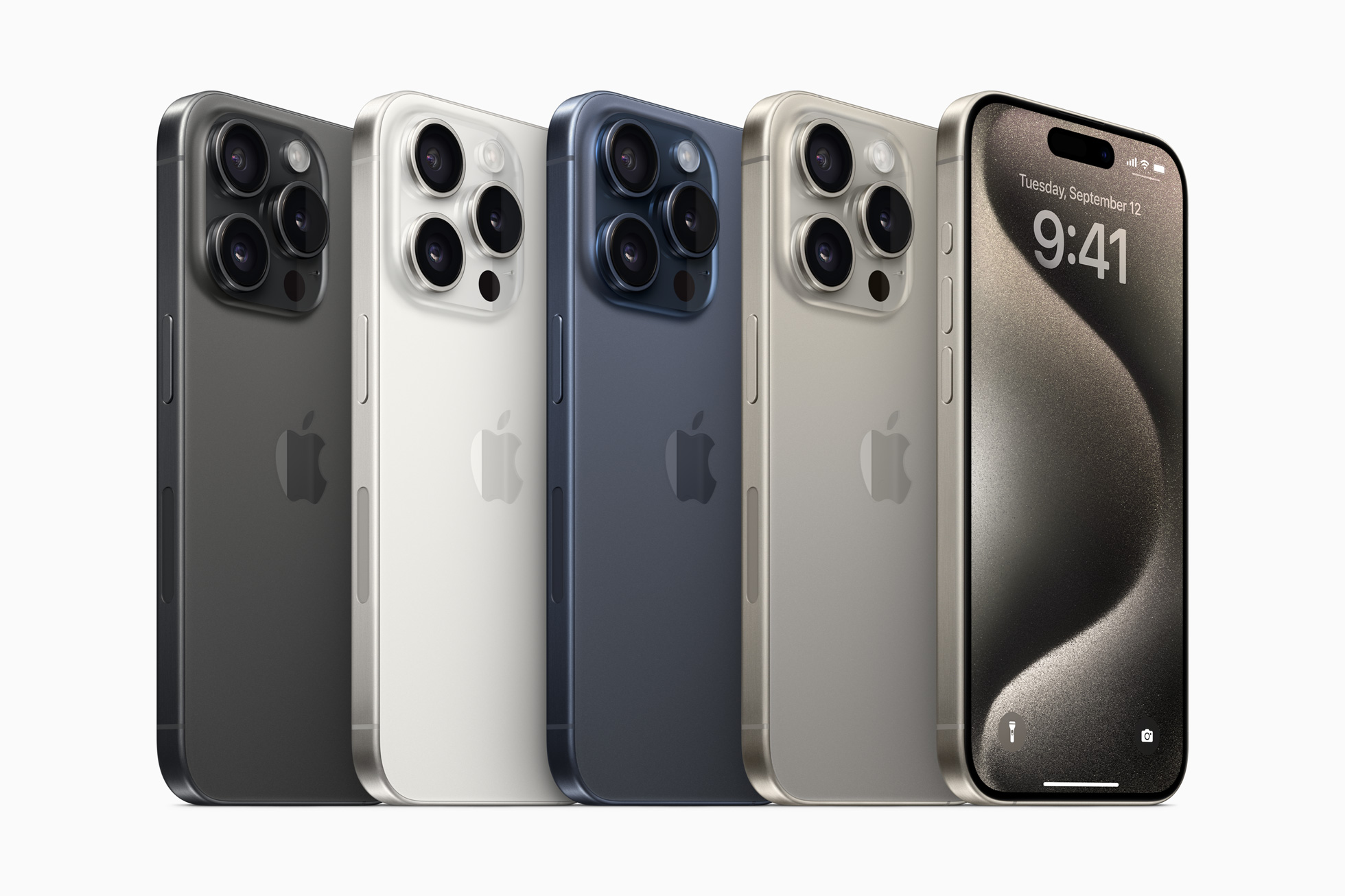 Also new is an Apple Watch-esque "action button" that replaces the iPhone's traditional mute switch. By default, it still serves as a mute switch, but users can change it to launch apps or the camera, or even to launch custom Shortcuts workflows.
The chips in Apple's Pro phones also remain a generation ahead of the non-Pro phones. The A17 Pro is Apple's first chip built on TSMC's 3nm manufacturing process, which allows Apple to cram 19 billion transistors into a phone-sized SoC (up from 16 billion for A16 Bionic) continues to use two large high-performance cores and four high-efficiency cores; Apple says the performance cores are 10 percent faster than they were before, a relatively mild improvement, while the efficiency cores are more efficient rather than being faster.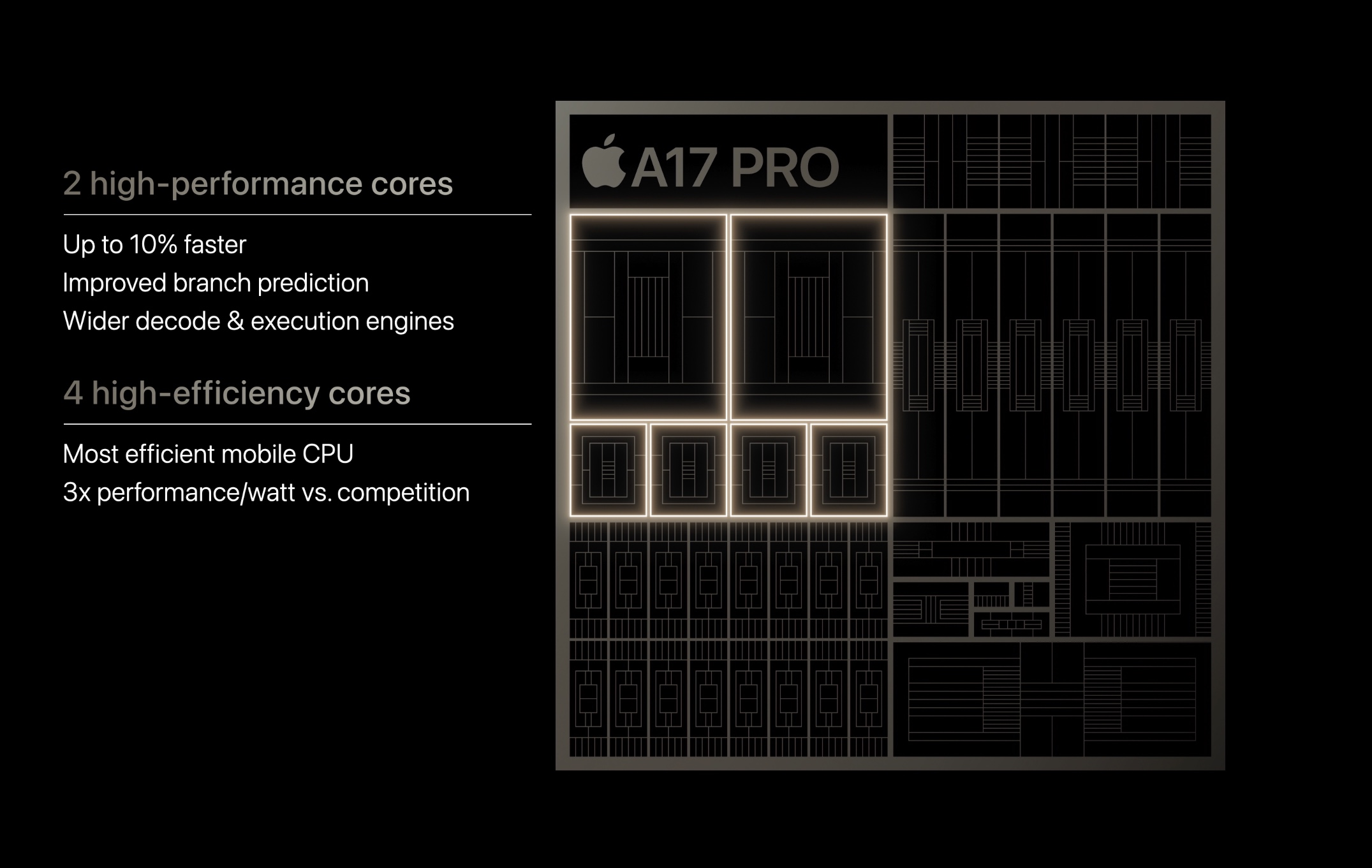 The A17 Pro's six-core GPU is 20 percent faster than the A16 Bionic, a slightly more significant update; Apple has also added hardware-accelerate ray-tracing to the A17's GPU, a feature also supported by newer Nvidia GeForce, AMD Radeon, and Intel Arc dedicated GPUs.
Apple has also added a new USB controller to power that USB-C port, allowing the iPhone to use 10 Gbps USB 3 transfer speeds for the first time (technically, this would make it either a USB 3.1 gen 2 or 3.2 gen 2 controller, if you can keep the USB-IF's naming straight). Most people don't use their iPhones for high-speed file transfers, but this will be a welcome update for people who use their phones to shoot gobs of high-resolution 4K video and want to transfer it to their desktops or laptops for editing.
Apple is also keeping the Pro's camera system a step ahead of the standard iPhone. Apple says the Pro's 48 megapixel main sensor is larger than the one in the regular iPhone 15 (like the iPhone 15, it will shrink the finished product down to 24 MP to save storage space). The camera defaults to a 24mm focal length, but 28mm and 35mm options are also made possible by the large sensor.

The telephoto lens is one point of differentiation between the Pro and Pro Max; in the iPhone 15 Pro, this continues to be a 3x telephoto lens with a 77mm focal length, similar to older models. In the larger Pro Max, the extra space allows Apple to step up to a 5x telephoto lens at a 120mm focal length. The 12MP ultra-wide camera lens gets a new coating and a macro shooting mode, but otherwise it isn't changing much. Collectively, Apple says that the three lenses can shoot in macro, 13mm, 24mm, 28mm, 35mm, 48mm, and 77/120mm modes without using digital zoom.
Apple's September product announcements are ongoing. This post will be updated with new details as we have them. You can follow along with our live coverage here.