Bollywood actors and actresses, along with their expensive cars, are often a topic of discussion on the internet. While there are a few celebrities who are genuinely enthusiasts, most of them are looking for premium or luxury features and comfort in their cars. With the rise in the popularity of electric cars, celebrities have started buying them too. Just like the BMW 7-Series, the electric version of the luxury saloon, BMW i7, is also gaining popularity among celebs. Here, we have a list of 5 such Indian celebrities who own a BMW i7 electric sedan.
Rekha
Veteran actress Rekha is known for her work in Bollywood movies. The actress recently bought a brand new BMW i7 luxury electric sedan. The design of the electric sedan is similar to that of the ICE 7-Series. The actress owns the sedan in the Oxide Grey Metallic shade and has been spotted arriving at several events in this car.
Jacqueline Fernandez
Jacqueline is originally from Sri Lanka and has been part of the Indian film industry for years now. She owns a variety of expensive cars like Range Rover Vogue, Mercedes-Benz S500, and even a Jeep Compass. The recent addition to her garage was a brand new BMW i7 luxury sedan.
Kim Sharma
Kim Sharma is a popular model and actress known for her role in the movie "Mohabbatein." Unlike many celebrities, she was often spotted traveling in a humble Tata Nano car. She recently upgraded to a brand new BMW i7 luxury sedan. The actress bought the car in Mineral White metallic shade.
Shekhar Suman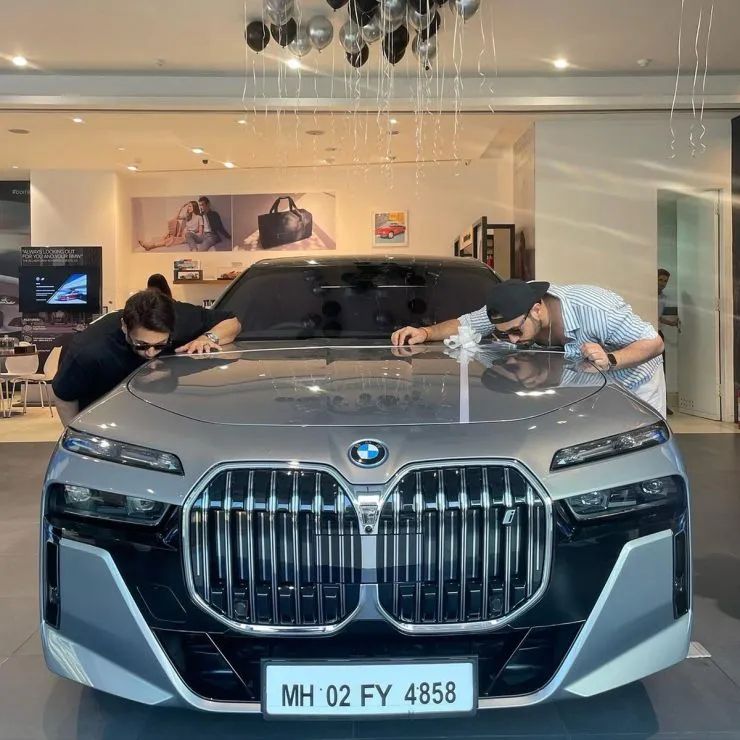 Popular Indian film and television actor Shekhar Suman recently bought a BMW i7 sedan. The electric luxury sedan was actually bought as a gift for his wife, Alka Suman, on their anniversary. Shekhar, who is also known as a host and comedian, bought the car in Oxide Grey Metallic shade.
Ajay Devgn
While Ajay Devgn is known for his acting skills, he is also an avid automobile enthusiast and has several expensive cars in his garage. He keeps on updating his garage and was one of the first actors to actually own a Rolls Royce Cullinan SUV. Now, he has bought a brand new BMW i7 luxury sedan worth Rs 2 crore.
BMW i7
BMW i7 is currently the flagship electric sedan from the German luxury car manufacturer. When compared to the ICE version, the i7 gets differentiating elements like blue accents in various places, new alloy wheels, an 'i' badge on the large front grille, and more. As this is a flagship sedan, it is loaded with features to the brim. It comes with a curved display for infotainment and the instrument cluster, as well as a 31.3-inch 8K cinema screen mounted on the car's roof that can be folded down. Additionally, the rear doors feature a 5.5-inch touchscreen to control the infotainment, climate control, and seats. Other features include multi-zone climate control, leather seats, electrically adjustable seats with memory and massage functions, and more.
The BMW i7 is only available in one variant. The i7 xDrive 60 generates 544 Ps and 745 Nm of peak torque. It is offered with two electric motors, one mounted on the front axle and the other on the rear axle. The 101.7 kWh lithium-ion battery pack provides a driving range of 591 km to 625 km. The BMW i7 supports both AC and DC fast charging.