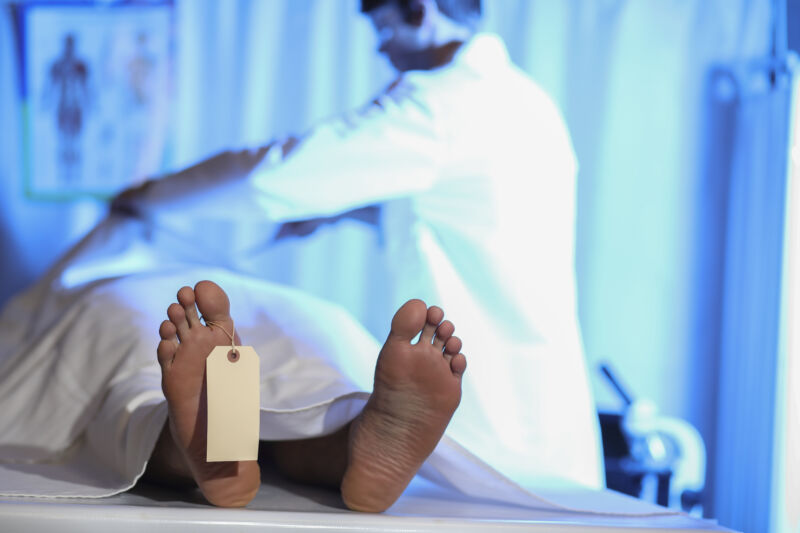 Authorities on Wednesday arrested the owners of a southern Colorado funeral home after discovering 190 decaying, improperly stored bodies at their facility—a discovery made only after reports of a putrid smell seeping from the facility.
Jon and Carie Hallford, the owners of the Return to Nature Funeral Home, which claimed to provide environmentally friendly "green" burials, were arrested in Wagoner, Oklahoma, according to a news release from the office of Michael Allen, the district attorney for Colorado's 4th judicial district.
The Hallfords were arrested without incident on four felony charges: abuse of a corpse, theft, money laundering, and forgery. The probable cause affidavit is sealed, but Allen told reporters at a press conference Wednesday that he would not contest releasing it to the public at a later date, according to NPR.
"I want to warn you, the information contained in that affidavit is absolutely shocking," he told reporters.
In early October, reports of a stench brought authorities to the Hallfords' property in Penrose, Colorado, which is about 100 miles south of Denver in Fremont County. After quickly executing a search warrant, authorities identified the decaying remains of 115 people in the facility. In an October 6 press conference, Fremont County Sheriff Allen Cooper called the findings in the facility "horrific" and "very disturbing." The estimate of the deceased found jumped to 189 upon further investigation and then to 190.
Early in the investigation, Jon Hallford acknowledged to a state official that he had a "problem" at the facility, which he also claimed to use for taxidermy.
The size and scope of the investigation became so large that Colorado Gov. Jared Polis issued a verbal disaster declaration, and local, state, and federal authorities were brought in to help, NPR notes. That included officials from the FBI, three county coroners' offices, the state emergency management agency, and various police agencies. Some of the FBI agents brought in were from a team that's deployed to mass casualty events, like airline crashes.
So far, 110 bodies recovered from the site have been identified using dental records, fingerprints, or medical hardware. Twenty-five bodies have been released back to families. The identification is ongoing, and prosecutors may add additional charges as the investigation continues.