Data shows that larger populations, available labor, high unemployment, and electricity access drive crypto adoption. Discover why some countries eagerly adopt digital assets while others hesitate.
The mainstream adoption of cryptocurrencies has long been a topic of interest within the crypto community. Regardless of whether someone is a Bitcoin or Ethereum maxi, almost everyone can agree on the fact that wider adoption across the globe will go a long way for the future of the industry.
Today, crypto is no longer on the fringes of discussion, with both institutions and mainstream media paying attention to the asset class and key developments in the space. Gone are the days when crypto was regarded as a discrete means to pay for illicit goods on the dark web, with large financial institutions now looking to deploy serious capital in the space and even launch a spot Bitcoin exchange-traded-fund (ETF).
If you no longer need to go deep down a rabbit hole to discover this magic internet money, what stops people worldwide from adopting crypto en masse? In this piece, we explore the factors that drive crypto adoption and why some countries have taken the leap towards embracing the world of web 3 while others have been less enthusiastic.
Which countries embraced crypto the most?
Over 10% of global internet users are expected to own some form of cryptocurrency – that's 500 million people, based on the estimated number of internet users today. And although global adoption has declined since its peak during the 2021 bull market, it is still well above the pre-bull market levels seen in 2019.
Chainalysis Global Crypto Adoption index shows that emerging markets like Vietnam, Philippines, India, and Thailand were some of the countries that ranked highest in adoption. Out of the top 20 countries in the index, ten were categorized as lower middle income, while eight were upper middle income and just two countries were high income.
Meanwhile, in terms of pure ownership, Statista found that Nigeria, Turkey, and the United Arab Emirates ranked highest.
Interestingly, China re-entered Chainalysis' top ten index despite a nationwide ban on trading cryptocurrencies. Despite a low rank in peer-to-peer trading of crypto, China appeared to be one of the most active countries in centralized crypto adoption and DeFi.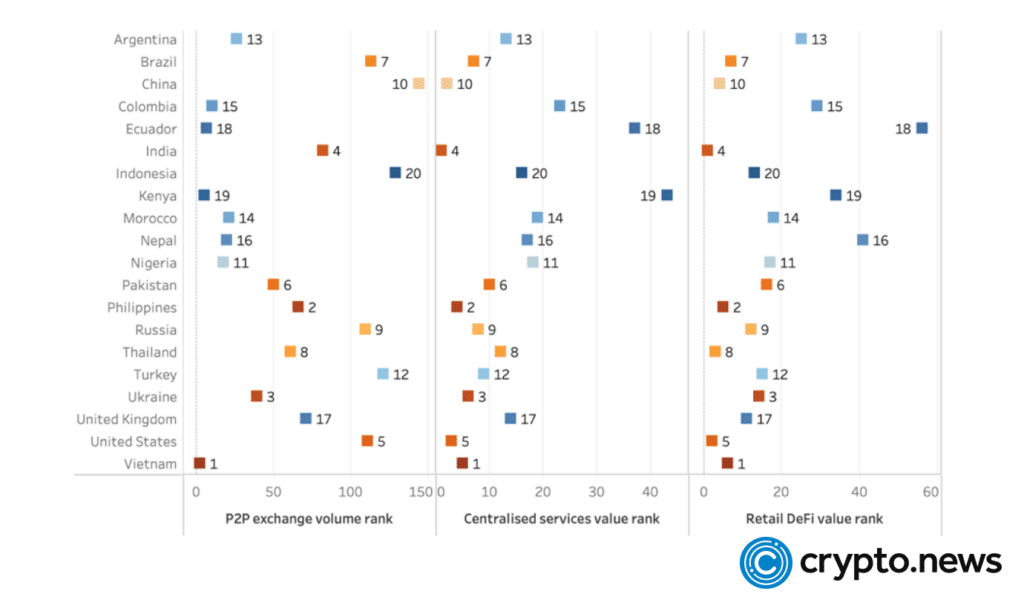 Vietnam took the top spot on the adoption index for the second year in a row, with sub-rankings indicating that the country had extremely high purchasing power and population-adjusted adoption across centralized exchanges, DeFi, and peer-to-peer platforms.
Despite a less-than-favorable regulatory environment, the U.S. moved up three places on the adoption index, ranking fifth in crypto adoption. Americans were most active on centralized exchanges and DeFi platforms but were one of the lowest users of peer-to-peer means to trade crypto.
Factors driving crypto adoption
Getting into the specifics of why certain countries have taken to crypto more than others, research shows that countries with larger population sizes, a sufficient labor force, higher unemployment, and greater access to electricity are associated with a higher level of crypto adoption.
An academic paper published in the VNU Journal of Economics and Business found that these economic factors drove crypto adoption, while nations with higher government spending and greater domestic savings had lower levels of adoption.
Data shows that developed countries had a larger number of crypto projects because of infrastructure and advanced technology systems. Emerging markets, on the other hand, traded more frequently on peer-to-peer platforms, largely because of a lack of easy access to centralized exchanges.
Of course, this isn't the case for all emerging markets, with some countries like Vietnam and the Philippines accounting for significant centralized exchange trading volume. In fact, a number of people in Pakistan have been converting their salaries into stablecoins to hedge against the devaluation of their currency despite the government emphasizing that crypto "will never be legalized."
Urbanization and higher domestic savings contributed to greater DeFi adoption, which likely explains why most DeFi volume is concentrated in North America and Western Europe, which together account for 68% of all volumes, while Sub-Saharan Africa accounts for just 13%.
Overall, the study found that crypto adoption was greater in high-income countries, with a larger number of people entering the workforce with more disposable income. However, even with adoption on the rise, most people still regard crypto as a risky investment, and it appears that countries that have easier access to financial services haven't rushed to crypto as quickly.
Exceptions to the rule
Statistics and data help paint a picture of why crypto adoption has grown, but almost as importantly, they also show us the outliers to the general trend. Countries like the U.S. have continued to build products in the space over the last decade and remain leaders in crypto adoption.
A look at developer activity shows that countries in Asia and Oceania took three years longer to onboard crypto developers than their counterparts in other regions. According to Electric Capital's developer report, the U.S. and Europe each account for 29% of the world's blockchain developers, while Asia accounts for 13% and India 6%.
Compared to the size of these countries' populations, however, only a small fraction of developers have been working on blockchain infrastructure. Interestingly, smaller countries like Malta, Singapore, and Luxembourg had the highest number of blockchain developers per 100,000 population members.
It is also worth noting that these developers may not be working towards building projects exclusive to their own countries, considering the world of blockchain isn't confined by borders. The conclusions we draw from the available data should be taken with a grain of salt – after all, when was the last time you answered a survey declaring you owned cryptocurrency?